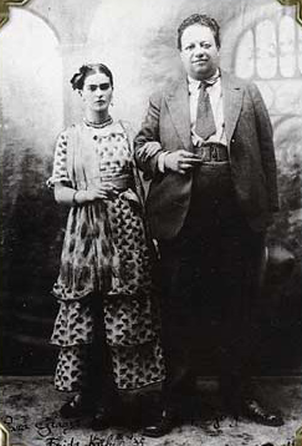 Frida Kahlo and Diego Rivera on their wedding day,
August 21, 1929


"I did not know it then, but Frida had already become the most important fact in my life. And she would continue to be , up to the moment she died, twenty-seven [twenty-six] years later." Diego Rivera recounted this about Frida in his memoir My Art, My Life when he was first getting to know her around 1928. The two seemed like a fascinating couple. He was passionate about art and politics and so was she. He could be irreverent and dramatic and so could she. He was a prankster and so was she. He had a wealth of knowledge and so did she. He wasn't monogamous in relationships and she wasn't either. Yet, Frida's parents were not too sure about this relationship.

Frida's mother Matilde was vexed by the large 20-year age difference as well as by Diego's hefty 300-pound stature and his Communist atheist beliefs. Both parents said it was like the marriage between an elephant and a dove. Matilde refused to support her daughter's decision to marry the elephant. Only Frida's father was present for the civil ceremony in Coyoacan, on August 21, 1929.

Was Matilde's bad feeling about her daughter's marriage to Diego a portent of a deeply painful union to come or just the mistrustful feelings of a protective Catholic mother who doesn't want her daughter to marry an atheist? There was cause for great concern because, like Diego's friend Pablo Picasso, he reveled in his sadistic acts toward women. As Diego put it: "If I loved a woman, the more I loved her, the more I wanted to hurt her. Frida was only the most obvious victim of this disgusting quality." Clearly Diego had a problem and even though he recognized it in this statement, he didn't change. Was Frida aware before she married Diego th hurt a woman the more he loved her before she married him? Was she conscious of any potential problems that could emerge in the marriage?

According to Frida's father, his daughter was no saint either. Guillermo Kahlo pulled Diego aside one day to warn him that Frida was a "devil." I've always wondered what he meant by this. How was she a devil? Certainly, Frida was not a typical traditional Mexican woman. This is evident in the family photo that I showed in the last blog where Frida wears a man's suit. Is that what Guillermo meant by devil or was he thinking about other qualities? He said that Frida was his favorite daughter and the one who was most like him. Does he call her a devil because he thinks of himself as a devil?

Whatever Guillermo Kahlo meant by the term devil, I think it is safe to say that with Frida, Diego had met his match!