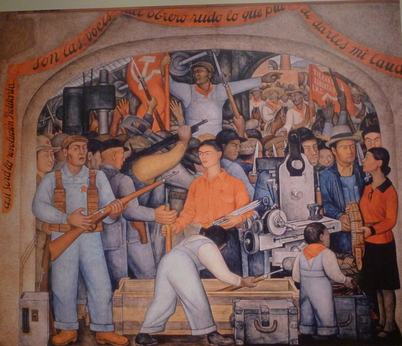 Diego Rivera's mural The Distribution of Arms, Ministry of Education, Mexico City, 1928-29

Nine months after the May Day debacle, Tina was accused of the attempted assassination made on the newly elected President Ortiz Rubio. Although the accusation was preposterous, while locked up in the Lecumberri Penitentiary, with just an iron cot and the stench of a dirty toilet, the authorities gave the "dangerous agitator" a choice--either abandon communist activities or leave Mexico. Tina chose deportation, embarking on the S.S. Edam headed for Europe on February 24, 1930.

Frida lost an important friend, but Diego's painting on the Ministry of Education's wall in Mexico City, 1928-29, immortalized these two devoted comrades. In this mural, Diego painted Frida front and center in a bustling firearms factory. In a ¾ pose, she looks off to the left while handing a rifle to her comrade. She is distributing arms to the peasants who are seen on horseback outside the factory in the upper right corner of the mural. Diego chose to dress Frida in a bright red worker's shirt with matching star over the left pocket, making her an eye-catching figure.


She and Tina are the only females depicted; however, Frida looks androgynous compared to Tina. Frida's black hair, cropped close to her scalp, could be mistaken for a man's hairstyle. Likewise, her jeans and loose-fitting worker's shirt, that camouflages her breasts, make it difficult to discern whether this person is male or female. In contrast, Diego painted Tina, who stands on the far right holding a bullet-filled bandoleer, wearing a form-fitting red shirt, knee-length black skirt and Mary Jane type shoes. Although her hair is pulled back, the profile perspective reveals a bun touching the nape of her neck.


Perhaps Tina's more "feminine" presentation connects to her love for Julio Antonio whom she gazes intently toward. Tina was known in Mexico as a sensual woman who was a free spirit, some referring to her more negatively as a femme fatale, especially after her sensationalized trial. Her sexualized image emerged, in large part, after the American photographer Edward Weston exhibited nude photos he had taken of her in 1924. By 1928, with Weston back in the United States, Tina was also known as a passionate defender of social and economic justice. In Rivera's mural, both the passionate lover and activist are portrayed.

Due to Frida's young age of twenty-two, her image hadn't had time to solidify in the realm of public perception. It's possible that Diego portrayed Frida as an androgynous figure because this is how he viewed his new lover who often greeted him in overalls.