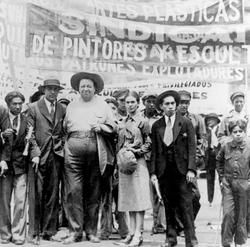 Tina Modotti photograph of May Day Protest, 1929

The comrade Frida was often seen wearing jeans, a khaki skirt, and a workman's button down shirt, adorned with an enameled hammer-and-sickle pin, a treasured gift from Tina. Frida's new look is captured in this photograph Tina took at a May Day protest in 1929, just two months after the Mexican government had outlawed the Communist Party. Tina was working on assignment for El Machete, the worker's newspaper that Rivera, David Alfaro Siquieros, and Xavier Guerrero (seen on the far left) founded in March, 1924.


Holding her Graflex camera up to her eye, Tina was finally at ease with the stressful job of seizing significant moments in time as they quickly unfolded before her viewfinder. As Frida and Diego stood at the beginning of the delegation representing the Union of Technical Workers, Painters, and Sculptors, Tina brought them into focus and snapped the picture. Surrounded by men in suits and worker's attire, Frida, the lone woman, wears a skirt with a button down shirt that is embellished with a kerchief tied around her neck. In her hand, she holds a worker's cap.


Frida's outfit, her serious visage, and penetrating gaze tip the viewer off to the violence that awaited the protesters. Diego's smile, on the other hand, conceals the mounting tensions that unfolded as protesters surrounded the American embassy. The police quickly infiltrated the crowd in an attempt to disperse it. Instead, mayhem ensued. As people were running in different directions, riot squads were beating them. Soon, gunshots were fired into the crowd. At this point, the Communist Youth League pleaded with soldiers to disarm. They agreed and began arresting people instead. The bruised, bloodied, and imprisoned bodies did not suffice as a stern enough warning. The police headed to the Party's headquarters and demolished it by smashing their printing presses. When they left, they locked the building. By June, the government officially closed El Machete.

The ease Tina felt in her role as photojournalist that day was undercut by an added strain. This particular May Day parade was fraught with tension and sorrow because of the crackdown on the Communist Party and the assassination of Julio Antonio Mella four months earlier by political opponents. Although Tina had to witness her beloved's lethal gunshot wounds while walking together on a dark street in downtown Mexico City, authorities accused her of killing her lover in a crime of passion. Those close to the couple knew this was a ridiculous claim and that the investigation put Tina Modotti's sexuality on trial in an attempt to ruin her reputation and embarrass the rank and file with the ultimate goal of destabilizing the Party.


Frida entered Tina's world of art and politics at an intense and significant period in Mexico's history.