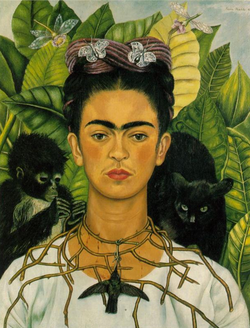 Self-Portrait with Thorn Necklace and Hummingbird, 1940
Nickolas Muray Collection, Harry Ransom Humanities Research Center, The University of Texas at Austin

JJ, I agree with you that film can be another source that allows us to immerse ourselves in the past. I've looked at Masha Salazkina's book on Eisenstein and it offers some interesting perspectives upon post-revolutionary Mexico. When the Revolution ended in 1920, Mexicans had to pick up the pieces. How were they going to put them back together? How did Mexicans define themselves after Spanish rule for more than three centuries and the thirty-four year dictatorship of Porfirio Diaz? How did the Mexican government create national unity? These are questions with complicated answers, but the more we grasp the culture that helped form Frida's identity, the deeper our understanding of her as a person and artist.

Usually, when we think of Frida in post-revolutionary Mexico, we think of her connection to Diego Rivera and communist politics; however, before Frida became a passionate advocate of communist ideals, she was Catholic. Reading her letters in the twenties, references to Catholicism or Catholic notions abound. For example, on August 2, 1927, she writes Alejandro: "Yesterday was Esperanza Ordonez's saint's day and they threw a party at my house because they don't have a piano. ...I was taken in the living room in my little car and I was watching everybody dance and sing. ...I was like a 'little tear' [sad], as always. Even though they take me into the sunlight (for four hours) every morning, I don't feel I have gotten any better, since the pains are always the same and I am very thin. But in spite of this, I want to have faith... But I will still have to wait for a time to see if the absolute rest of these three months (I could almost call it martyrdom) works or not" (The Letters of Frida Kahlo, Martha Zamora, 35).

I'm struck by several things in this letter. The little car she is pushed in. It's a cute image, but the cuteness vanishes when Frida sits in her car watching everybody else dance and sing. This "real street wanderer" has been confined to a plaster corset and a toy car that gets pushed into the sunlight for four hours a day. No wonder she was like a "little tear." But, isn't it interesting that she refers to her three months of confinement as "martyrdom?" It makes me think of all the paintings she made with references to Christ, such as, Self-Portrait with Thorn Necklace and Hummingbird, 1940. Even though in 1940, she was no longer aligned with Catholicism, she still refers to it symbolically with the crown of thorns around her neck. On the other hand, this self-portrait also refers to Aztec religious beliefs by including the hummingbird and butterflies, both associated with the deity Huitzilipotchtli. Thus, we find in Frida's art the same type of complex overlay of images and ideas that gave birth to a new concept of Mexicanness or Mexicanidad in post-revolutionary Mexico.