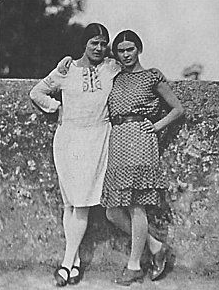 Tina Modotti and Frida Kahlo, c. 1929

By June of 1928, when Frida's five-year relationship with Alejandro was finally ending despite her continued adoration, it was time to focus on new passions. The twenty-one-year-old discovered them through German de Campo, a former Cachucha school mate who was now a law student. He introduced her to a group of politically engaged communists and artists. They congregated on the fifth floor of Tina Modotti's red brick Zamora apartment building on Abraham Gonzalez Street, just fifteen minutes from the center of Mexico City. Tina, the dark-haired, aquiline-eyed Italian American photographer and political activist, who had lived in Mexico since 1923, had ensconced herself within the political and artistic circles of her new home.


Frida was drawn to this intriguing 33-year-old and her vibrant and volatile circle of friends because Frida, who had been weaning herself from Catholicism, found a new passion in communism. While the Mexican government had supported the Communist Party after the Revolution ended in 1920, by 1928, tensions between the Calles-backed Emilio Portes Gils' regime and the Communist Party were increasing. Many committed activists in Mexico were willing to risk their lives in order to effect social change. Julio Antonio Mella was one of them. The exiled Cuban anti-imperialist communist had ignited the Mexican Communist Party with both his youthful exuberance and his independent thinking. Tina, an official Communist Party member since 1927, was far from irritated by the striking Cuban with the thick black wavy hair that set off his protuberant brow, nose, and dimpled chin as well as his deep-set piercing eyes and succulent lips. In September of 1928, when the two met at El Machete, the Communist Party's paper, sparks were flying.

Sparks also flew when muralist Diego Rivera shot his pistol at a phonograph during one of Tina's parties to emphasize a point. Such outrageous antics beguiled Frida. Although she and Diego had crossed paths before, it was through Tina that they met as comrades, with Frida joining the Communist Youth League in 1929.