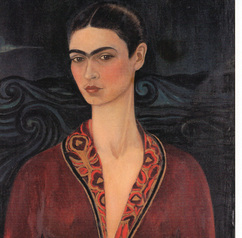 Detail of Self-Portrait, 1926, 31 x 23 1/2," oil on canvas,
Private Collection, Bequest of Alejandro Gomez Arias, Mexico City

Just one year before Frida painted the portrait of Miguel Lira, discussed in the last post, she created Self-portrait with a Velvet Dress, 1926. What a difference in terms of style! Unlike the portrait of Miguel, this one is devoid of all the symbols. Also, Frida pushes herself up against the picture plane and stares out at the viewer with those piercing eyes. She pulls us in with her seductive and intelligent gaze. Frida's portrait of Miguel is a visual puzzle that asks us to dissect it with our minds. Here, Frida tugs on the emotions. The waves behind her symbolize deep emotion. It makes sense when you understand that she made this self-portrait for Alejandro. On the back of the painting, Frida the following: "Frieda Kahlo at the age of 17. September of 1926-Coyoacan-Heute ist Immer Noch (Today still remains)." This inscription reveals Frida's German side because her first name was spelled with the German "e;" however, Frida changed it in the early 1930s. Also, Frida knew the German language because of her father and a German school she attended. It's an interesting expression-Today still remains. What do you think this might mean for Frida? What was she trying to convey to Alejandro?

Frida did not hand this painting to her boyfriend. Instead, she sent it to him with this note: "Forgive me for giving it to you without a frame. I implore you to put it somewhere low, where you can look at it as if you were looking at me." Maybe Frida wanted her image to always remain in Alejandro's psyche. If he looked at the painted Frida and imagined that she was the "real" Frida, then she "still remains" connected to Alejandro. Do you think art is that powerful?