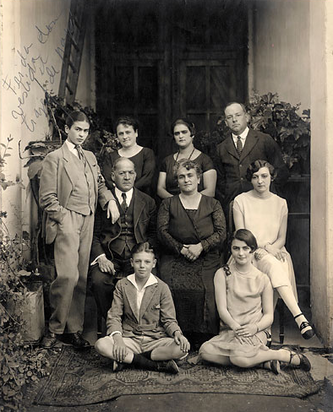 Guillermo Kahlo's family photograph, 1926

Diego's androgynous depiction of Frida in his Ministry of Education mural from 1929 is not the first image to play with her gender. In 1926, Frida's father snapped a black and white family photo that shows Frida wearing a man's suit. Lined up in three rows, everyone wears their finest dresses or suits for this seemingly conventional family photo. All looks typical for this time period, except for Frida standing off to the left clad in a three-piece suit, tie included. Her light colored suit jumps out of the photograph because it contrasts to the darker clothing near her. Her pose also steals the viewer's attention because she stands at a slight angle with one leg bent and her right hand nestled into her pant's pocket while the left arm rests on her uncle's shoulder. Is this an inside joke between Frida and her father? Frida's mother and uncle look as if they take the photo shoot seriously, but it's possible that the stern expression on Frida's uncle's face is really anger over having to go along with his niece's cross-dressing, allowing her to emerge as the dominant "male" of the family.


In another photo taken that day, the women in the family and a younger male cousin are standing in a line and Frida, still donning a man's suit while holding a cane, occupies the middle position, just like in Diego's painting. With her unwavering gaze, she stares down viewers as if she defies them to scoff at her.


While Frida often dressed in clothing that could be viewed as genderless or male attire, her public image shifts in August of 1929 from the androgynous communist comrade to the wife of Diego Rivera.