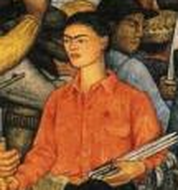 In my last post, I mentioned that Frida was Catholic before she was communist. I wonder when she converted to communism? It was probably around 1928 or 1929 when this painting of Frida was created by Diego Rivera on his Ministry of Education wall. Frida is part of a larger image, but we see her dressed with the red shirt and star of communism handing out weapons to the peasants. This painting shows us a changed Frida, but I'd love to know more about her thought process during the shift from Catholicism to communism. I'm not aware of any letters or journal entries that discuss a moment of realization or a gradual process of moving away from Catholicism. If anyone knows of a letter or journal entry, let me know.

In the same August 2nd letter I quoted in the last blog, Frida is writing to Alejandro, who is in Europe, about girls he's met. She instructs: "Don't flirt much with the girls in the health resorts..." Then Frida tells him about the exquisite girls in Mexico who look like Botticellis. "They have pretty legs and only here can they be addressed like this: Miss (M'ss), do you want to be my girlfriend? But you can't do that in France or Italy, and definitely not in Russia, where there are so many vulgar communists..." I wonder if Frida is being sarcastic when she writes about the "vulgar communists." I'm inclined to think she is, but I'm not sure what her political beliefs are at this point in 1927. Four months earlier, she told Alejandro that she was reading a daily article in the newspaper about "The Russian Revolution." Unfortunately, she doesn't say what she thinks about the Revolution in Russia.

In the August 2nd letter, Frida also writes: "I think this time I have really suffered, I must deserve it, right?" This sounds like classic Catholic guilt. It doesn't prove that she's still one of the faithful since many ex-Catholics have discussed carrying the weight of guilt around after leaving the Church. Nevertheless, it makes me think that Frida still has a toe, or even a foot, dipped in Catholicism. In the opening paragraphs of the letter she recalls Esperanza's saint's day party and there is no indication that Frida disapproves of it. My sense is that Frida is still in between. She's not as staunchly Catholic as she was before the accident, but she's not a passionate follower of communism either.