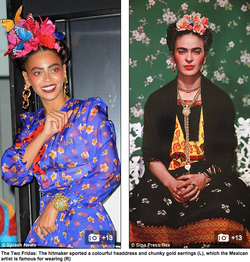 Frida Kahlo is an iconic figure, yet I'm often surprised when I tell people about my book that they know very little about her. Some have never heard of her. Maybe Beyonce's Halloween costume will bring Frida's image to the surface of popular culture once again. Fridamania reached its zenith in the 1990s, but I think Beyonce's costume signals a shift into a new wave of, what I like to call,
Frida love.
What people know and do not know about Frida interests me.
As a writer, I want to appeal to a large spectrum of readers, from those who know nothing to those who know a lot. I'm asking people to tell me if they've ever heard of Frida Kahlo. If they have, then I'd like to know how they learned about her and what they know about her and her art. For those who are Frida lovers, I'd also like to know what facets of her life and art are inspirational. This is an ongoing project that I will post periodically as I continue to blog about Frida's journey through the United States. The excursion begins on November 10th, the day that Frida set foot in San Francisco. Until then, I want to hear from you. Please click on "comments" and join the conversation.
I'm looking forward to it!