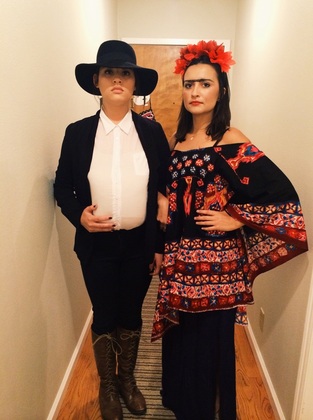 Jessica Finkel and her friend dressed up as Frida Kahlo and Diego Rivera for Halloween. I think they make a stunning couple! Jessica is actually dressed as Diego. Here's what Jessica had to say about Frida:

"I went to a bilingual elementary school where I learned Spanish and English. My school used art a lot in their curriculum. Therefore, we learned about Frida Kahlo and Diego Rivera, and though it has been a long time, I still remember some facts about Frida Kahlo. I know she was famous for her self-portraits and that she was very much influenced by her husband Diego Rivera, and also Mexican culture post-Revolution. She tried to incorporate Mexico's culture into her paintings. I think she also had polio or some kind of disability that affected her spine and legs, which is why she wore big, long skirts, to conceal that."

Thank you Jessica for allowing me to reproduce this photograph and your comments.