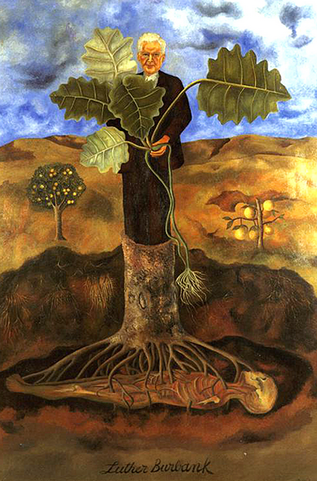 Frida Kahlo, Portrait of Luther Burbank, 1931, 34 1/4 x 24 7/16," oil on Masonite
Museo Dolores Olmedo, Xochimilco, Banco de Mexico Diego Rivera Frida Kahlo Museums

The Thanksgiving holiday is supposed to be about enjoying our family and friends surrounded by a bountiful array of tasty food, but how many of us gave thanks to Luther Burbank last week? How many people know about Luther Burbank, the "Wizard of Horticulture?" Frida certainly did because she created this incredible portrait of him while she was living in San Francisco. Although Burbank is from Massachusetts, as an adult, he made his home Santa Rosa, CA. He died in 1926, but his wife Elizabeth Waters stayed there until her death in 1977. Elizabeth left the house to the city of Santa Rosa, and today, it is a museum and park. Frida went to Burbank's house and witnessed first hand what this man had created: a horticulturist's paradise.

Burbank was revered in the early 20th century for his creation of new plants, fruits, and vegetables through cross-breeding. Most of us probably had potatoes for Thanksgiving, but did you know that the Burbank russet potato derives its name from Luther Burbank? While reading Darwin, Burbank became interested in the idea that each plant contains countless possible variations. While checking on his potato plants one day, he noticed some tiny seed pods growing on them. He decided to plant 23 seed pods to see what would happen. Two produced potatoes, resulting in the russet with its white interior and brown skin. Have you ever enjoyed a plumcot, part Japanese plum and apricot? If so, you have Luther Burbank to thank. Prior to his cross-breeding of these two fruits, people thought it impossible to cross two trees with such different types of fruit. He managed to create the soft plum-like flesh with the apricot scent, seen below. Burbank's ability to create new species of fruits and vegetables has changed the way we think about food by introducing us to a variety of species from around the world.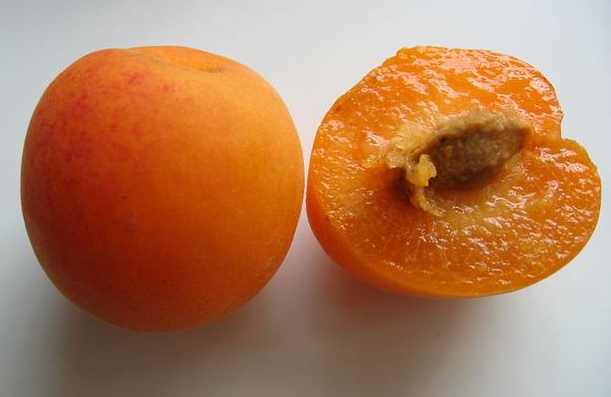 Likewise, Frida introduced us to a new style of painting. If you go back and look at her portrait of Jean Wight, you'll notice that Frida's style has changed with her portrait of Luther Burbank. Instead of creating a more traditional portrait of a seated Burbank in an interior setting, Frida paints a standing Burbank who is part tree/part human. Underneath Burbank's trunk, lies his skeleton. Frida probably places a skeleton here because Burbank was buried under a Cedar tree at his home. Therefore, Frida intertwines Burbank's life and death with the skeleton below nourishing the tree, man, and plant above. Even though Frida never met Burbank, her portrait of him is extraordinary, revealing a connection that she must have felt with this "wizard."

© Celia S. Stahr 2014