According to a December 2011 article in The Atlantic, "The Psychology of Home: Why Where You Live Means So Much," author Julie Beck writes: "The dominant Western viewpoint is that regardless of location, the individual remains unchanged." South Asians in contrast believe that your home is who you are because "people and the places where they reside are engaged in a continuing set of exchanges…" It's fascinating to note this distinction.

What does home mean to you? This seemingly simple question is a complex one because the word home is intertwined with feelings of belonging, being settled, and feeling centered. For many, even in the West, their sense of home is intimately connected to their sense of self. Certainly, for Frida, home meant Mexico, a sentiment that was strengthened while living in the United States. As an outsider in San Francisco, she was viewed as the petite, exotic wife of Diego Rivera. This perception of her as "petite," "exotic," and "wife of" creates the image of a small, unobtrusive foreign wife to a man hailed as a great artist. Where is Frida's identity in this description? Certainly many of these perceptions were informed by 1930s attitudes concerning gender and race.

Sadly, many of these sexist and racist perceptions still exist in the United States today. This is clear in
Mark Harris's To Be Young, Gifted, and Criminalized, where a young African American boy looks up in a contemplative mood while writing as if he's gathering his thoughts before putting another sentence down on paper. Is he thinking about a mathematical problem connected to all the equations behind him or is he beginning to lose consciousness due to the blood flowing out of the huge gaping holes in his body? By juxtaposing these two very different images of this young boy, Harris's piece reveals the way in which perceptions of black males as dangerous criminals can cost a young gifted man his life. What might have become of this young black male had he lived in a society free of such racist stereotypes? As Harris states: "As a kid, I remember wanting to be a professional football player, astronaut and cowboy all in the same week. Unbridled imagination is a gift of youth. The possibilities of life seem endless and there is a desire and curiosity to try everything you can. Who's to say that in today's climate of police violence against African American youth that we haven't already lost the next George Washington Carver, Ron McNair, Charles Drew or Thurgood Marshall?" James Baldwin wrote that "An identity is questioned only when it is menaced…" If you feel the "menace" of racial profiling on a regular basis, then your identity is called into question a lot. Can a place where your identity is questioned feel like home?

There's a thought-provoking exhibition at the Thacher Gallery on the campus of the University of San Francisco that explores the multiple meanings of home, both literal and metaphorical, in an innovative manner. Hiraeth: the 3.9 Collective Searches for Home features ten African American artists who formed a collective in response to the exodus of African Americans from San Francisco, leaving a mere 3.9 percent in this city known for its diversity and openness. Hireath is a Welsh word that "roughly translates to homesick," but as fellow collective member and the curator of the exhibition, Rhiannon Evans MacFadyen, points out, the word also means "a longing for a far-off home, one that may not even exist." Each artist responds to this Welsh word in a different manner, using a variety of media, making the exhibition powerful on both an aesthetic and emotional level.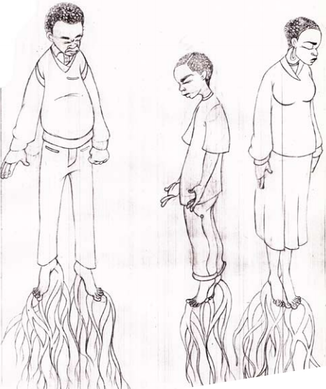 Is our sense of being rooted in a home or place intimately connected to our conception of who we are? Nancy Cato's mural Uprooted is a potent image that calls to mind the isolation that African Americans can experience from being uprooted from their homeland due to slavery. The three figures with eyes closed have roots dangling from their feet, but they are not connected to a place or each other. Cato states: "As an artist I feel a tremendous responsibility and desire to visually respond to the enormity of being black in America. Our spirit and humanity has been relentlessly under attack and I would like to create work that encourages dialogue and healing."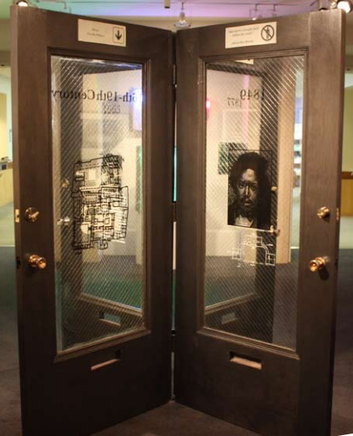 Rodney Ewing's Passages, comprised of four glass doors with images on both sides, allows viewers to literally see the connections between the displacement of Africans due to the institution of slavery, the resistance of slaves, such as H. Box Brown, and the resilience of freed African Americans who established black towns throughout the United States or who, like James Baldwin, became one of the most important writers of the 20th Century. Baldwin's quote on the last door prompts viewers to contemplate the relationship between identity and self: "…Identity would seem to be the garment with which one covers nakedness of the self: in which case, it is best that the garment be loose, a little like the robes of the desert, through which one's nakedness can always be felt and sometimes discerned."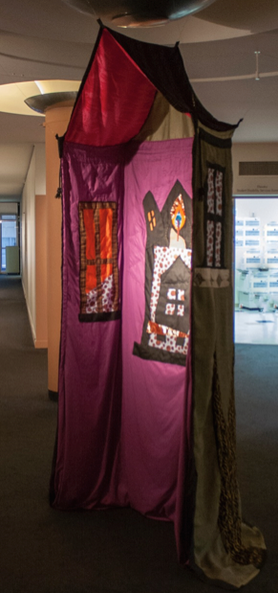 Michael Ross's UpHome/DownHome uses fabric to create hand-sewn houses that can also be worn as garments. It's easy to imagine these lightweight silky houses as loose "robes of the desert," both covering the self and allowing it room to be naked. As houses, they are beautiful to gaze upon, but as structures, they have no foundation, making them easy to move. As Ross comments: "In creating this art piece I have thought about the Black migration of the South in the mid 20th century and the Black migration out of San Francisco and other rapidly changing cities in the early 21st century."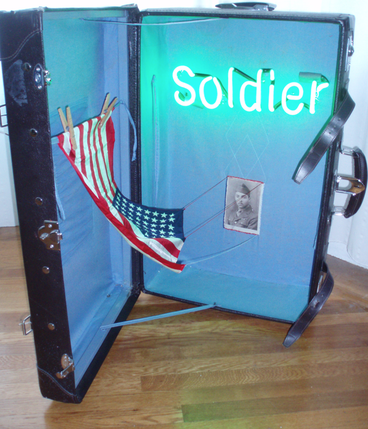 Many black communities in San Francisco have been undergoing gentrification, resulting in migrations, but also in homelessness. William Rhodes's Guardian of Forgotten Actions foregrounds the homeless African Americans of the Bayview community who once had a home and a role in society and who are now relegated to the margins where they are faceless. In one of the three opened suitcases that Rhodes designed to pay homage to the rich histories of the people he met and interviewed, a man's face peers out at the viewer. Dressed in uniform with "Soldier" lit up in neon light above and an American flag draped from one side of the open suitcase to the other, it is painful to realize that this man, who served his country, is now living on the streets. Rhodes asked each person he met what home meant to her or him. "Everyone made it clear to me that they carry home with them wherever they go. Home for them is in their hearts, minds, and in their rolling suitcases filled with photos and personal belongings. It amazed me how spiritual and grateful these people were beyond their material despair. I wondered how you can stay positive and optimistic with no physical place to call home." Although Rhodes could not restore the Bayview community, he did restore an important African and African American tradition, that of storytelling. By collecting the stories of the homeless people he met and bringing them to the public's attention, he connected each of them to this rich oral tradition that records important histories, harkening back to the griot (the keeper of history), who recited the story of King Sundiata and his founding of the Mali Empire in the 13th century.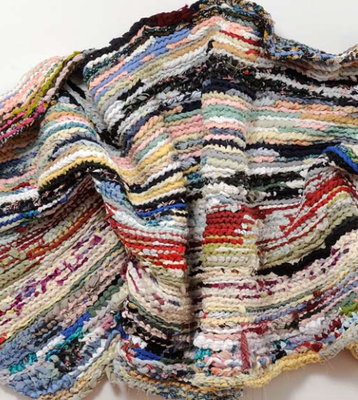 Likewise, Ramekon O'Arwisters's
Have You a Little Fairy in Your Home?
is a rag rug that embodies many stories and promotes the importance of continuity and community. O'Arwisters's rug that hangs on the wall with its multitude of colors and textures was inspired by his paternal grandmother who made quilts. As the artist poignantly states: "Quilt-making with her is one of my fondest childhood memories, for I was embraced, important, and special. I was a little black boy hiding my queer self from my family during the harsh reality of the Jim Crow South of the 1960s and before the turbulent years of the Civil Rights Movement that spread throughout the country." O'Arwister not only makes vibrant rag rugs that hang on walls, he brings people together to participate in what he calls a Crochet Jam. At the opening for the
Hireath
exhibition, he had a table set up with many large wooden crochet hooks and different colored fabrics. Everyone was encouraged to participate in the creation of a free-form rug. It was wonderful to see people join in and have fun with it, even if some expressed frustration because they couldn't get it quite right. They were creating in a relaxing, accepting, and fun environment because O'Arwisters's point is not to get it right. "I want participants to be in a creative mindset without anyone dictating the creative process nor concerned about the finished product. Crochet Jams are how I make liberation a form of art."
In the end, O'Arwisters's story and his Jams emphasize the importance of accepting one's self and building communities, two important ingredients for a thriving society. But, when black communities are forced to disperse to other areas or onto the streets due to gentrification, can these displaced individuals maintain a healthy sense of self? One of the lingering questions that the
Hireath
exhibit asks is: "Does San Francisco care if black people are here?"
Hiraeth
ends on April 21, 2015. There's a closing event at USF's Gleeson Library that features Rodney Ewing in conversation discussing the displacement of the African American community in San Francisco's Fillmore District.
To get more information about the
Hiraeth
exhibit and the closing event, go to:
http://www.usfca.edu/library/thacher/exhibitions/hiraeth/
Closing Event Info:
http://usfcal.usfca.edu/EventDetails.aspx?data=oUtg1FbeNNPNq11ax4WuELQFjiTunuex
To learn more about the 3.9 Collective and its artists, go to:
http://threepointninecollective.com/
Upcoming Crochet Jams:
Steep Brew Cafe, Whole Foods, Potrero Hill, ArtSpan's Hub, Thursday, May 7, 2015, 6–8 p.m.
San Francisco International Airport (SFO),
Safety, Health, & Wellness, 20 Aug 2015, 12–1 p.m.
All quotes from the artists and curator are taken from the
Hiraeth
website; however, Mark Harris sent me his statement for this essay.
For the Julie Beck article, "The Psychology of Home," the first quote is from Beck, but the second quote is from William S. Sax on page 2 of the article.
© Celia S. Stahr 2015