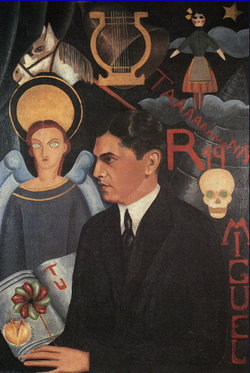 Portrait of Miguel N. Lira, 1927, oil on canvas
Museo de Arte de Tlaxcala

Frida created Portrait of Miguel N. Lira, 1927, while she was wearing a plaster corset. Quite a feat considering her psychic and physical pain. From letters Frida wrote to Alejandro, we know that Miguel, Frida's friend who was part of a group she and Alejandro hung out with called Los Cachuchas, asked her to paint his portrait. Miguel also asked if Frida could paint a modern portrait in the "Gomez de la Serna style." This is a reference to a 1915 portrait Diego Rivera created of Ramon Gomez De La Serna, done in a Cubist style. This is an interesting request in 1927 because Frida is not romantically involved with Diego at this point and Diego's style had changed quite a bit once he moved back to Mexico from Europe in 1920.

Frida takes on the challenge of trying out a different style from some of her previous works. Even though Diego no longer used a Cubist style in 1927, there were Mexican artists who did. These artists were connected to a movement called Stridentism or Estridentismo. This was really a literary movement that emerged in Mexico City in 1921, just one year after the Revolution had ended. There were lots of artists, such as the muralists, who were painting the country's history in a naturalistic style. Stridentism, however, embraced a Cubist and Futurist aesthetic and philosophy. The Italian Futurists, beginning in 1910, used a Cubist style to create works of art that promoted the speed of the machine age. They rejected past art, advocated destroying libraries and museums, and glorified war as "the only true hygiene of the world" ( Filippo Marinetti's Futurist Manifesto). In Mexico, the painters, who identified with Stridentism, focused on images of the modern city as a symbol of progress. In the post-revolutionary period, these artists wanted to build a new society with a new style of art to represent these ideals.

Frida's portrait of Miguel places him in a shallow space surrounded by symbolic objects. Miguel occupies the foreground in a profile position with a steady gaze as if he is looking at someone outside the picture plane. While he is still, even stiff like "cardboard," as Frida herself noted, there is the illusion of some movement around him. The bell clangs TAAAAAAAAANN, the doll looks as if it is ascending, and the hobbyhorse faces left as if it is headed toward the space outside the picture frame, mirroring Miguel's profile position. You have to know something about Miguel Lira to understand these symbols. The horse, for example, connects to Miguel's poems and his hometown of Tlaxcala because he published his first poems in Tlaxcala's newspaper called Pegasus of Tlaxcala. The book, seen floating near Miguel, and the pinwheel in his hand also symbolize his profession as a poet because the pinwheel recalls Chinese mandalas and his love of Chinese poetry, which inspired his first poetry books (Frida Kahlo Retrospective, Martin-Gropius-Bau, ed., 82).

Even though Frida didn't like this portrait she made of her friend, saying "...it is so bad I don't know how he can say he likes it. Buten horrible...," nevertheless, it is a testament to her strong will. If you go back and read the letter she wrote to Alejandro just one month before she writes another letter that indicates she is finishing her portrait of Miguel, it is hard to imagine how the person who is desperate to the point of wanting to die if her condition doesn't improve, could muster the focus, patience, and physical strength to create a portrait in a new style.

Footnote: Although buten sounds German, Frida made up the word to mean "very."