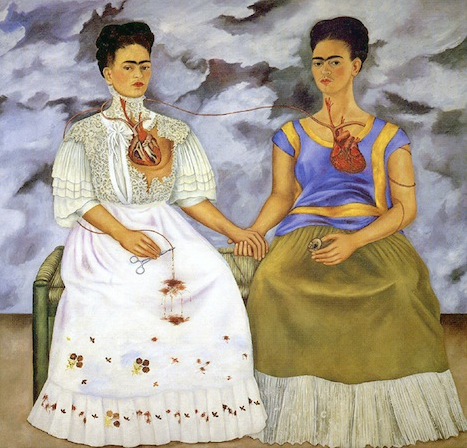 Frida Kahlo's "The Two Fridas," 1939, 67 11/16 x 67 11/16", Oil on Canvas, Museo de Arte Moderno, Mexico City. © 2009 Banco de Mexico Diego Rivera Frida Kahlo Museums Trust, Mexico, D.F./ARS.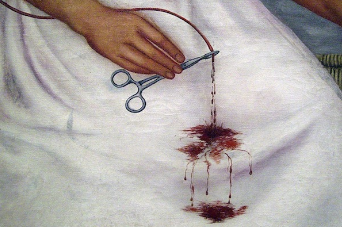 On July 6, 1907, Frida Kahlo was born at eight-thirty in the morning. Although her full name is Magdalena Carmen Frida Kahlo y Calderón, she was known by her German name, Frida, which means "peace." Frida's father was German and she identified with his temperament in many ways. However, Frida grew up during the years of revolutionary chaos and radical change and she saw herself as part of this important shift in Mexican consciousness. She embodied the spirit of
Mexicanidad
, a new Mexican identity that embraced its indigenous past and present. In this new environment, the
mestizo/a
, a person of mixed racial and ethnic backgrounds, was celebrated.
The Two Fridas
foregrounds Frida's mixed ethnic heritage, highlighting her mother's indigenous Oaxacan roots, seen in the image on the right, and her father's European background, seen in the image on the left. The Frida on the right is dressed in the style of clothing worn by the women from Tehuantepec. With her dark skin and intact heart, this Frida holds a picture of Diego as a child. The Frida on the left side is dressed in a white, high-collared, Victorian style dress. Her skin is lighter and her heart has been ripped open, but she attempts to stop the bleeding with the hemostat in her hand. Frida makes the two sides distinct, but she also unifies them through the flowing blood and the holding of hands.
​Deep pain is expressed in this self-portrait, but ultimately, Frida embraces all the different aspects of herself in an attempt to find "peace." Carlos Fuentes has a slightly different interpretation of Frida's paintings in general: "The horrible, the painful, can lead us to the truth of self-knowledge." This is one reason why Frida's life and art have inspired so many people the world over. In honor of Frida's birthday, which she celebrated on the 7th of July, I'm publishing Parthenia Hick's incredible poem,
Dos Fridas Hablando
, and her statement about the power and importance of Frida.
Dos Fridas Hablando
You clamp our shared hearts
to keep us from bleeding out
drops of blood decorate the
bedskirt of your dress
mix with chrysanthemums
and birds
that fly near your hidden feet
My left hand holds the portrait of us as a young boy, a pendant wrapped in a fine circle of goldour hearts beat right out of our blouseslike bloody wild monkey fists
Our faces are partitioned off
we paint from behind our masks of pain
that runs like starving rats
up our legs and down our backs
Our lips stay full of cherries and wine
blood-swollen from the kiss of skeletons
I wear our white lace dressLike royalty you sayI watch your heart beat like a stick of dynamiteabout to blow up a canvas
We split a part down the middle of our heads
and pile our hair up like stacks of rope
The sky gorged with graying cloudspushes on our headsthere is something like groundthe color of muskunder our feetsomething solidthat we cannot see
We hold each other's hand
This poem is very special to me because I relate to the "splitting" of self, especially when it arises in art. My obsession (not too strong a word) with Frida comes from observing the way she turned her pain, both physical and psychic, into art. I have brought Frida into my own art as the personification of the kind of art that can come only through a woman's experience and interpretation of the world and the plane on which we live. She showed me that, at least in art, one does not have to follow any rules and transparency has a sacred home. To me, this is profound. For so much of her life, she lived locked inside her back brace, carrying this burden with no choice. The legacy of her pain, however, has released so many women artists from having to carry their own burden of being braced and stitched in restriction. Long live Frida!
Parthenia M. Hicks is the Poet Laureate Emerita of Los Gatos, CA and the recipient of the Dragonfly Press Award for Outstanding Literary Achievement; the Silicon Valley Arts Fellowship for Literature in the genre of Short Story; the Robinson Jeffers Tor House Poetry Prize; the Villa Montalvo Biennial Poetry Prize and several Pushcart nominations. She is a professional editor and the Managing Editor of the "Enlightenment Journal" as well as a jewelry maker, specializing in portraits of writers and artists. parthenia1@mac.com

© Celia S. Stahr 2016​