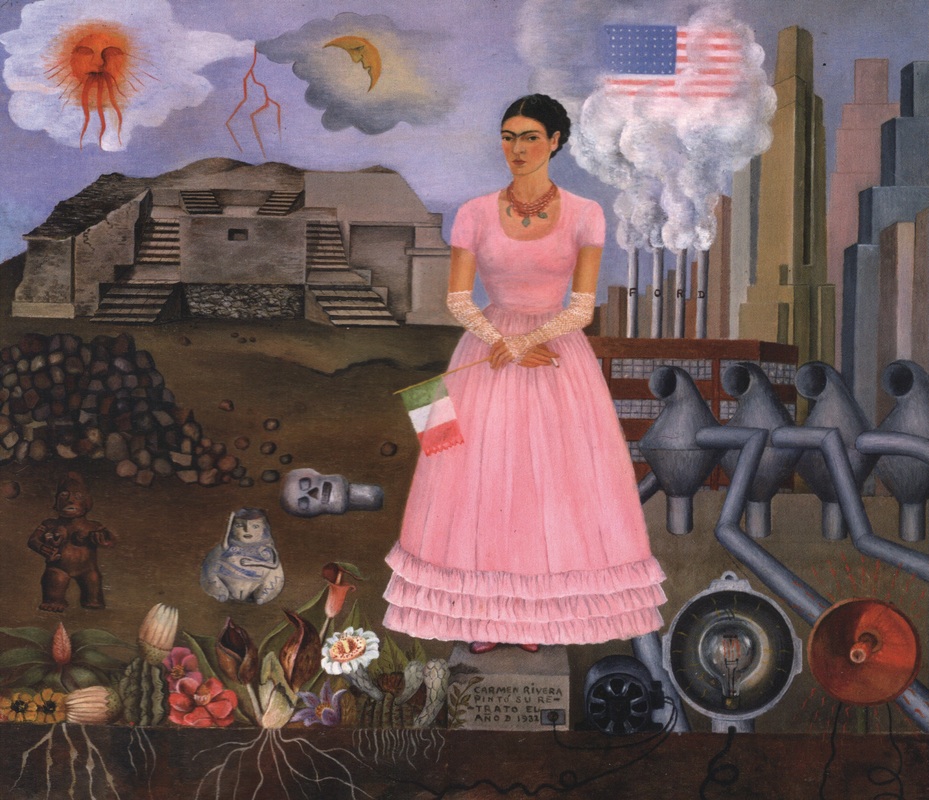 Frida Kahlo, "Self-Portrait on the Borderline between Mexico and the United States," 1932, oil on metal, 12 1/2 x 13 3/4", © 2009 Banco de Mexico Diego Rivera Frida Kahlo Museums Trust, Mexico, D.F./ARS.
In the fall of 1932 while living in Detroit, Frida opened a telegram from one of her sisters and saw:
Your Mother is Desperately Ill.
The words she had dreaded while living far away from home were now spelled out in bold black letters. She wanted to see her
mamacita
, but the miles and the border separated them. Frida felt panic rising in her chest; it was difficult to take deep breaths. She needed to see her mother in person—to feel her and talk to her. She tried the phone, but the line was dead. There was
dead silence
and this only fueled Frida's anxiety.
Diego suggested Frida take the train to Mexico and the next day she left Detroit. She passed through the border at Laredo, Texas, entering Mexico through Nuevo Laredo. As the train continued south, Frida's anxiety increased. She finally reached Mexico City where family greeted her. But, by the time she arrived, her mother was on her deathbed. A photograph of Frida taken by her father at this time shows her hollow, grief-stricken face. She stayed in Mexico for a month mourning her
mamacita's
death. She didn't want to return to Detroit, but Diego was still there painting his murals at The Detroit Institute of Arts.
After Frida returned to Detroit by train, she painted
Self-Portrait on the Borderline between Mexico and the United States,
seen above. It's a complex work of art that I discuss in more detail in my book. There's a lot to take in with this painting that depicts Frida standing on a border marker between Mexico and the United States. Her hollow shell of a face that her father had captured in his photo has been replaced with a stoic visage. Her head is turned to the left and she has a steady gaze that looks off in the same direction. She wears a pink floor-length dress accented by white lace gloves and a beaded necklace as if she's ready to go to a party. In one hand, she holds the Mexican flag and in the other she grasps a cigarette, a symbol of the liberated woman. She is an independent "New Woman" who stands in between her beloved homeland, revealed by the flag, and her temporary home of Detroit, seen in the FORD factory clearly marked on the right side of the composition. The distinctions between these two countries are made clear in the painting, but Frida is the link between these two sides that share a border. She had just returned from Mexico and felt torn—should she be with her mourning family in Mexico or should she be with Diego in Detroit? In the painting, she has to straddle both sides. That was her life in 1932.
The push-pull of straddling the U.S./Mexico border is pertinent today for numerous Mexican and Mexican American families traveling back and forth visiting one another, for Mexicans seeking employment in the United States, etc. Unfortunately, the issue of border control, including building a wall, and expelling "illegal aliens" has taken center stage for the Republican Presidential candidates. In Frida's painting, she's a bridge between the two very different cultures she depicts and her perspective is one that is shared by many today who desire a constructive conversation that focuses on finding solutions in order to bridge differences.
Once again, Frida was a trailblazer, taking on the multi-dimensional aspects of border issues in 1932 when few artists were exploring such a topic. Since the 1980s, the U.S./Mexico border has been the focus of many fascinating and important works of art. Hopefully, these artworks and exhibitions will fuel an informative and constructive national dialogue.
To aid in this discussion, I want to recommend two venues. First, there is a fascinating exhibition called
Border Cantos: Richard Misrach and Guillermo Galindo
at The San Jose Museum of Art. It will be there through July 31st
http://sjmusart.org/exhibitions-on-view
. Second, in conjunction with the exhibition, Montalvo Arts Center is sponsoring a screening of a video entitled
Border Disorder
. Here's more information:
Border Disorder is going to be shown on June 25th from 7-9 p.m. at Montalvo Arts Center, 15400 Montalvo Road, Saratoga, CA 95070. This screening showcases experimental video art and video documentation by Lucas Artist Fellows and other artists that explores and intervenes in the local and global complexities of the US-Mexico border. Featured artists include Ana Teresa Fernandez, Chico MacMurtrie Fiamma Montezemolo, and Sergio de la Torre, among others. The screening will be followed by a conversation with Fernandez and de la Torre.
montalvoarts.org
Note: The information that Frida never saw her mother is incorrect. She did get to see her on her deathbed after returning to Mexico.
​
© Celia S. Stahr 2016