July 7, 2014

Hi Everyone,

Yesterday was Mexican artist Frida Kahlo's birthday. If she were still alive, she would be 107. I'm celebrating her birthday by embarking on a journey tomorrow that will trace Frida's steps when she lived in Detroit in 1932. While she was there, she took a train through the Midwest, Arkansas, and Texas. I will also take a train through these same areas, but whereas Frida took the train all the way to Laredo, I will drive from Austin to Laredo because passenger trains no longer go all the way to this border city.

I'm excited to share this experience. See you in Detroit!

---
July 8, 2014

Hi Everyone,

We made it to Detroit. I feel so happy to have my feet planted on the ground because our landing was quite rocky due to gusts of wind. Walking outside the airport doors, I felt as if I could be swept off the ground. What happened to the hot humid Midwest summer I was expecting?

Driving from the airport to downtown, I saw rows of homes that looked like nice middle class houses next to blackened and crumbling buildings. I thought about how Frida probably saw something similar back in 1932 during the Depression. Detroit, which had been quite prosperous in the 1920s due to Ford industries, was in dire straits by the early 1930s. Frida sympathized with the unemployed workers, but she was being wined and dined by the elite circles that Edsel and Henry Ford traveled in. To be accurate, her husband Diego Rivera was being wined and dined because Frida was not a famous artist in 1932; however, her experiences in Detroit had a profound influence upon her (more about this topic later).

Tomorrow, I'm going to the Detroit Institute of Arts where I'll do some research on Frida and see the murals that Diego painted in the museum's courtyard. I'll let you know what happens.

Good night.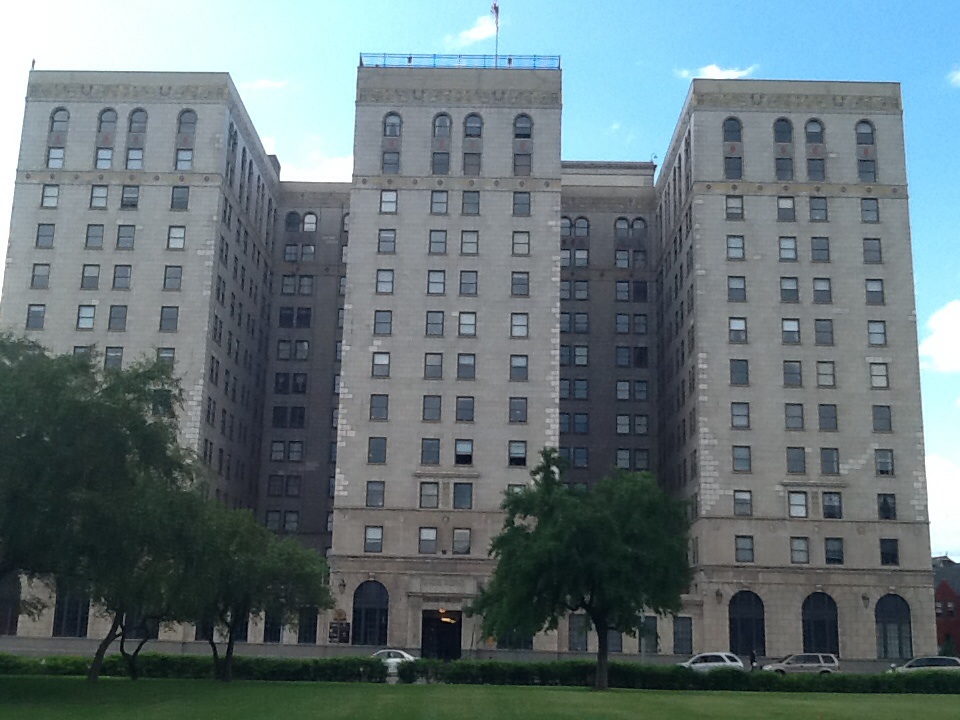 Wow, it has been a long day! I'm not very coherent after 7 hours of research. This is a picture of the Wardell Hotel where Frida and Diego stayed in Detroit. Today, the rooms are condominiums. The Wardell is across the street from the Detroit Institute of Arts. That's where I spent the day looking at photos and letters as well as some other papers. I read four of Frida's letters. I've read a few before, but it is always so exciting to see her cursive. It is quite beautiful. I'm impressed with her English. Yes, they were all written in English. She claimed she didn't know English very well, but she did. She also knew German, making her trilingual.

Tomorrow I'm going to see The Henry Ford Hospital because 84 years ago Frida was there due to a miscarriage. I'm curious to see the place that inspired one of her most famous paintings entitled "Henry Ford Hospital." I will also see Diego's murals that he painted at the Detroit Institute of Arts. Today, I saw them from above looking down into the courtyard. It was dazzling because there is natural light that comes in from above flooding the space. I was amazed by the colors of the frescoes. They were alive with a vibrancy that I wasn't expecting. They seemed different from the colors I've seen on his murals at the San Francisco Art Institute and The City Club in San Francisco. I'll get a closer look tomorrow.

I must sleep now. Bye.
---
---
---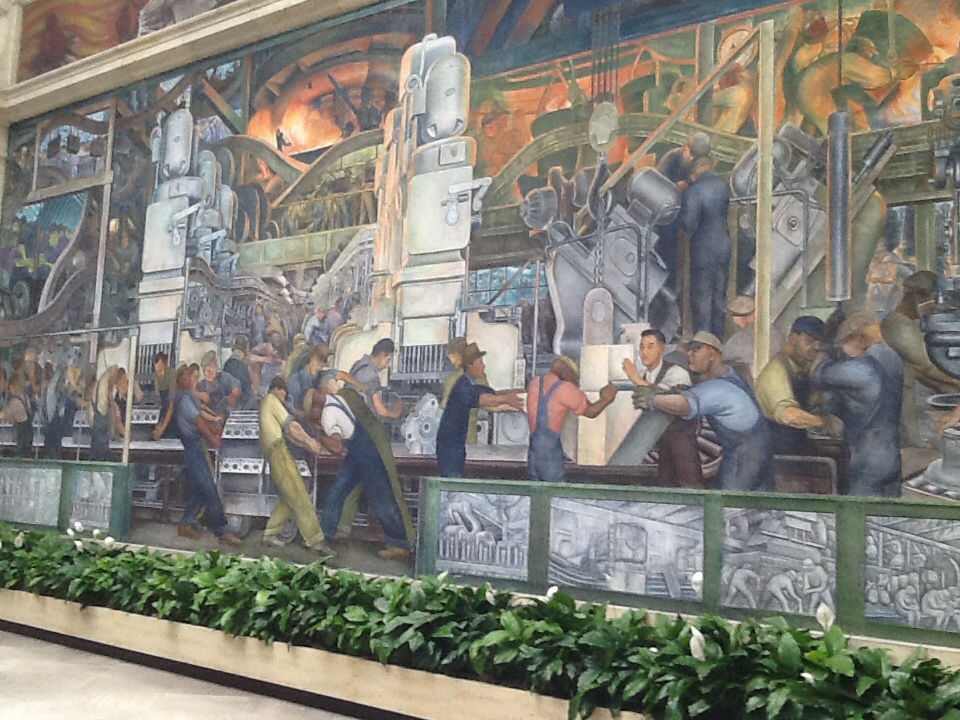 July 10, 2014

Hi Everyone,

Here's one of the four large murals Diego painted at the DIA. The murals were stunning. The whole courtyard that they're in is dominated by them. Frida would walk across the street from the Wardell to visit Diego up on the scaffolding. I came across a nice observation of a moment that they shared written by Stephen Dimitroff, one of Diego's assistants. He writes: "I would be down in the shadows watching Diego coming off the scaffold after a day and night of work. Frida had come to take him to the Wardell. He wiped his forehead with a red handkerchief, kissed her loudly, took the cigar she offered him, then gave it back to her. Niendorf, who understood Spanish, offered her a light. She bit the cigar, lit it, puffed a few times, then gave it to Diego, whispering some tender words."

I will leave you with this affectionate interlude between Frida and Diego because I have to wake up at 4 am to catch a train. I'll have two days on the train to write.

Good night.
---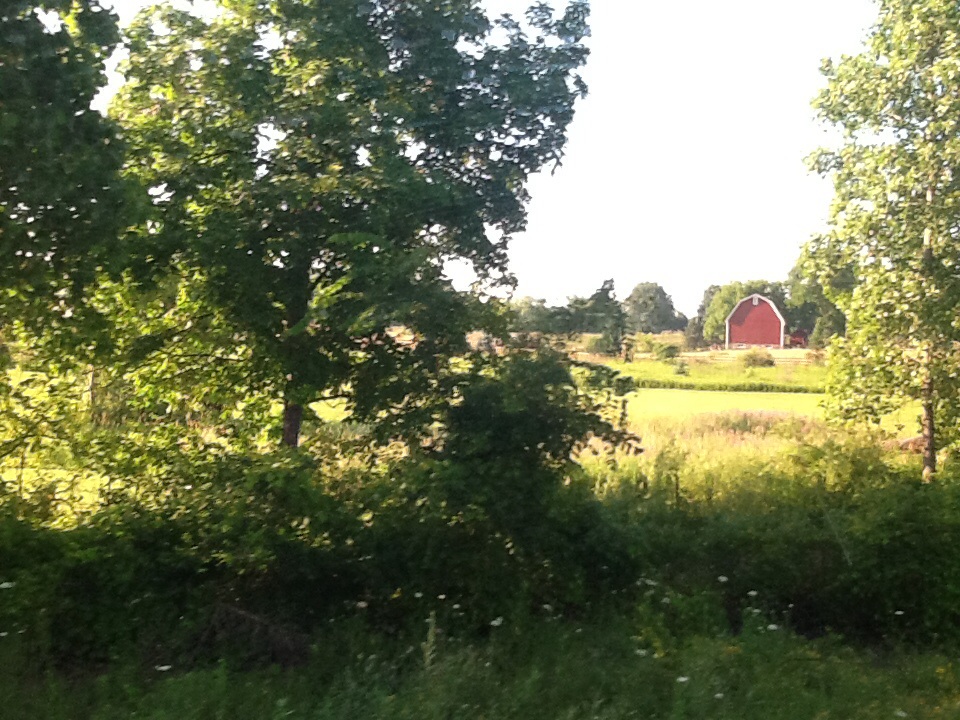 July 11, 2014

Hi Everyone,

We boarded the Wolverine train bright and early this morning at 5:45. The alarm didn't go off, so we woke up late. Scrambling around quickly in the dark, we grabbed our bags and flew downstairs. Amazingly, the taxi was already there. When we walked into the train station, we were amazed by how tiny it was. I had thought that we would leave out of Michigan Central Station that was built in 1913. It was a huge beautiful Neoclassical style building. I was in for a surprise. The current station consists of a plain room with a few nondescript seats. I wanted to make sure that we got there with plenty of time to find our track. We laughed when we found out that there was one track and we were all escorted together to the track when the train was approaching.

Leaving Detroit, we saw a lot of the same contrasts between relatively nice homes next to the ruins of other houses. Detroit is such an odd and interesting place. There are many incredible old buildings, such as The Fisher, but there are probably twice as many that are crumbling. I kept thinking of East Berlin before the wall came down where bombed out buildings from WWII were scattered throughout the city. Talking to some Detroiters, they said that Detroit's been deteriorating since the 1930s. I wondered what Frida saw when she was in Detroit. She referred to it as a "shabby town," but I think in some ways it was in better shape during the Depression. One of our shuttle drivers commented when asked how he was doing that he was just livin' the Detroit life. I asked what that meant and he said: " It's a tough life." Other Detroiters echoed his feeling, but I must say, all were open, warm, and helpful. My daughter loved all the people we encountered. Seeing the poor conditions has been an eye opener for her. She's commented on how many of the abandoned buildings look haunted and creepy.

The photo I posted was taken just outside of Ann Arbor. You can tell from the barn and lush greenery that we have left Detroit. We are headed for Chicago. My daughter just informed me that the bathrooms are quite nice with warm water and toilets that flush. In other words, she's happy that they aren't porta potties. I think she enjoyed seeing Detroit, Diego's murals, and a large photo of Frida painting, but she had to be quiet a lot of the time while we were in archives and libraries. She's happy to be on the train. For a couple of days, we can relax and soak up the changing landscape outside our window. I'll be thinking about Frida and wondering what she thought and felt as she traversed this vast terrain. Unfortunately, she did not keep a journal, but her friend did. I know that their first major stop was in St. Louis. We will be going through this city on the Mississippi around 7:00 tonight. I'll try to write later.


---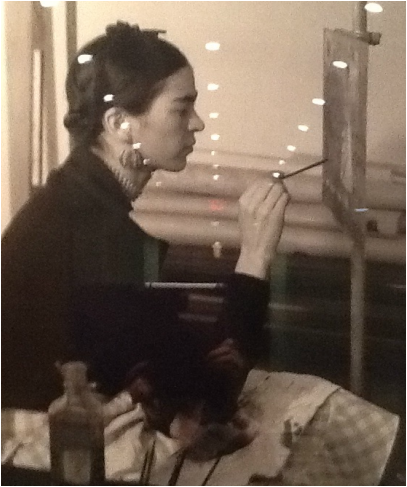 July 13, 2014

Hi Everyone,
I'm sorry I didn't write yesterday, but I couldn't once we got on the Texas Eagle train in Chicago because it didn't have Wi-Fi. I'm writing from Austin. It was so wonderful to take a shower and sleep in a comfy bed last night. The train ride was great in many ways, but it was also challenging to be on it for two days. Our sleeper car was cozy and my daughter and I loved looking at all the scenery. St. Louis was the most exciting place we went through because we approached the city with the huge arch at dusk. The lights were shimmering and my daughter's mood lit up when she saw the huge arch. "Wow," she said, "That arch is awesome." Then, when we turned and went over a bridge that spanned the Mississippi River, we were both giddy. My daughter exclaimed: "This is the best part of the trip so far." I think she is right. It must have been a great stop for Frida as well. She and her friend Lucienne got off the train and had lunch at the top of the Statler Hotel. I wish we had time to do the same, but we only had 20 minutes. The Statler is still there, but it has been taken over by Hilton, I believe. It probably doesn't look the same as it did when Frida went there. The train stations don't look the same either. It is so disappointing. I was hoping to see at least one train station that had retained the splendor of the ones that Frida went through. St. Louis's old station was built like a French medieval castle, but we didn't see any castles. Just another plain nondescript station.

Most of what we saw from Ann Arbor to Austin looked similar--green trees, some farms, some small towns--a few quaint, a few abandoned--and tall buildings as we approached cities. I was expecting to see more of a shift when we got to Texas, but this wasn't the case. We saw a few ranches, but they were small. In Fort Worth, we had to get on a bus because the tracks are being repaired. On the bus, I knew we were in Texas when we saw Bush's Chicken, a fast food place, and several billboards that just spelled out "JESUS" across them. The bus ride was the most challenging leg of the trip. We boarded the bus at 12:30 pm, but we didn't leave until 2:00. We were pretty tired by then. While my daughter slept like a baby on the train the night before, I don't think I slept much at all. I was on the top bunk and it was narrow and very bumpy. I couldn't fall asleep. I kept trying, but I felt as if I were going to fall over the side at any moment. I remember the conductor announcing Little Rock at 3 am. Then, at 7 am, the conductor announced that we were stopping at Marshall, Texas.

As we sat on the bus waiting, my daughter was getting a bit impatient. Overall, she's been an amazing travel partner, but the bus was a low point for both of us. We were also hungry because the train got into Fort Worth ahead of schedule and we didn't get lunch. The bus had some snacks, but it wasn't much. Then, I made the mistake of going to the bathroom on the bus. It had a terrible smell. It smelled like a porta potty, but it wasn't. I really thought I was going to throw up. The poor people sitting in the back of the bus could smell it. They complained, but nothing was done about it. Luckily, we had one 20 minute stop with a nice bathroom. After the bathroom stop, we only had another hour until Austin. Yea! I spent the last hour talking to a woman who teaches 9th grade English. We had a great conversation. It was just what I needed to get me through. We're stopping in Austin because The Harry Ransom Center at the U of Texas has a drawing Frida made while she was living in San Francisco. My book covers Frida's personal and creative journey while living in S.F., Detroit, and New York. I'm excited to see this drawing. I just wish I had more time to look at some of the other papers they have at the Ransom Center. The woman on the bus was telling me that they have letters between Hemingway and his mother and in one, his mother is telling him to come home because she's tired of supporting a writing dream that will never manifest. There's also a rejection letter to Sylvia Plath for her book The Bell Jar. It gives all writers hope.

When we arrived in Austin, we were welcomed by bustling streets, Whole Foods, and young people riding bikes. The woman on the bus offered us a ride to our hotel. It was so nice of her. People in Austin have been warm and open like in Detroit, a nice change from the rude Amtrak personnel we encountered on the Texas Eagle.

I'll try to write more later about Frida and what this journey entailed for her emotionally.

By the way, the photo I posted is of Frida painting in Detroit; however, she is working on a painting called Self-portrait on the Borderline between Mexico and the United States. Clearly, it is a painting that was influenced by her experience living in the U.S.
---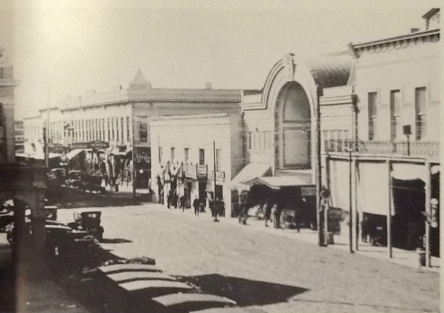 July 17, 2014

We are home now, but I want to say a bit more about our last couple of days.

This is a photo of Flores Ave. in Laredo that I got from the archives. It was dated 1920s. I spent many hours looking through old photos trying to get a feel for Laredo when Frida was there, but also to see if I could pinpoint the location of Frida in a photograph. I told my daughter that we were detectives like Nancy Drew, but I don't think her enthusiasm to crack this case lasted long. She thought it sounded fun, but after two hours of looking at photos and reading various books, she was ready to go swimming. After four hours, she was bouncing up and down in her chair and twirling around in it. I couldn't blame her, but I didn't want to get kicked out. Just as I was pleading with her to hold on a little longer, we heard two men singing a ballad in Spanish. We couldn't see them on the street outside, but their voices filled the room. It reminded me of a scene in the movie Frida when she is singing in a bar. Hearing the men sing broke up the tediousness of research and the tension that was building in my daughter. After all my looking, I didn't see anything that looked like the buildings where Frida stood. I was told one person's theory of where she stood and I got excited, but the thrill dissipated when I went to this place and discovered that most likely, it couldn't have been the place. I left the archives feeling disappointed. We walked along the streets with our eyes wide open looking for clues. None appeared. I spoke to a woman in a shop and showed her the picture of Frida. She had a different theory of where Frida was standing. We rushed over to the area she mentioned, but couldn't tell due to new buildings that wouldn't have existed in Frida's time. We walked more with my daughter continually asking when we were going to go swimming. "Just a bit more," I kept saying. I was so focused on finding any sign of an old building that looked like the ones in the photo that I didn't even feel the heat, but when I looked at my daughter's face, I knew it was time to leave this wild goose chase behind. We went back to the hotel and plunged into the water. A huge smile appeared on my daughter's face. We were back in the world of childhood
---
---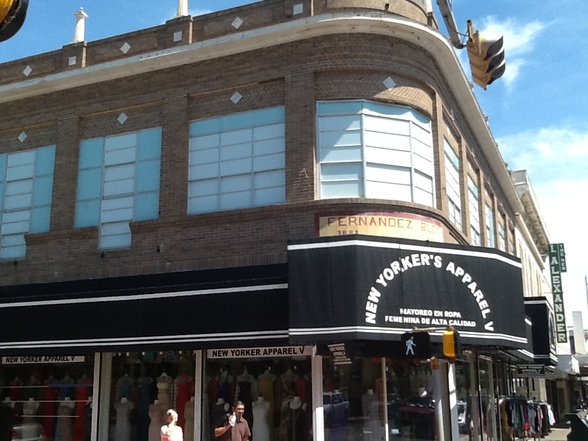 The next morning I woke up thinking about another possible way to track down where Frida was standing in the photo. We went back to the archives. I didn't have an appointment, so when we walked in the archivist was surprised to see us. They were having a meeting and I couldn't use the room where she brings all the materials out. She asked if I could come back later in the afternoon. I told her that we were leaving in an hour. She agreed to let me look at some books in her office. I was so grateful. I only had 20 minutes though because that's when the meeting started. I flipped through the pages as fast as I could praying that I would solve this puzzle, but what I was hoping to find written on the pages didn't exist. My daughter's bored and slightly angry facial expression and the time on the clock, reminded me that it was time to let go and move on.

We left the archives and drove around the streets of Laredo one last time before heading for Austin. As you can see from this picture, many of the buildings that would have been standing when Frida came through Laredo are still there. This one, the Fernandez Building, was built in 1883. Not all the buildings are in such good shape. Many are much more dilapidated. As we drove through the streets, I could see Frida strolling down these same streets with her rebozo wrapped around her head and her long skirt swaying back and forth.

My daughter and I didn't want to leave. We wanted one more day, but we had to hit the road and get back to Austin for one more research stop and our flight home. Driving on I-35, I saw a lot of Border Police cars. After being on the road for about twenty minutes, we had to drive through a check point labeled Homeland Security. The officer looked at our identification, looked in the car windows, and signaled that we could pass through. Other than looking at the International Bridge with its Border Police and dogs, this was the only indication we had of tensions along the border. Once we got to San Antonio, I didn't see any more Border Police. The only other indication of security issues took place at the airport. The security was much tighter in Austin. In San Jose when we left, they didn't even make me take off my shoes. Maybe it was because I had open toed shoes or maybe it was because I was with my daughter. In Austin, it didn't matter. I had to take off my shoes and unpack several items from my carry on bags and place them in the trays.

Once we got on our second flight and were headed home, I felt relieved that all we had to do was sit. On the one hand, my mind was spinning with information and pictures of things I had read and seen. On the other hand, I felt exhausted and just wanted to clear my mind. Eventually, my mind cleared and I dozed off. After waking up a few times to see Garfield on my daughter's DVD player, I heard the captain say that we should prepare for our landing.

I'm still reeling from our trip. It was such an incredible experience on so many levels. As my daughter pointed out, we began the trip in Detroit looking out our hotel window across the border toward Canada and we ended it in Laredo looking out our hotel window across the border toward Mexico. We also took many forms of transportation: planes, trains, taxis, and a car. Or, as I kept thinking on the trip, "Trains, Planes, and Automobiles" (one of my favorite movies). We also met lots of people, most of them wonderful. I'm so grateful that I got to share this experience with my daughter. She was a great travel partner. Yes, she got bored at times, but she was still patient. And, we only spent two long days in archives. The other days were spent looking at art, architecture, the Mississippi River, learning about history, etc.

I'm excited to be home and to continue writing my book. With the new information I've gathered, I can fill in some of the holes and expand upon some of my chapters. I will continue to blog about my personal and creative journey writing this book about Frida's personal and artistic journey while living in the United States.
---
---